ABOUT US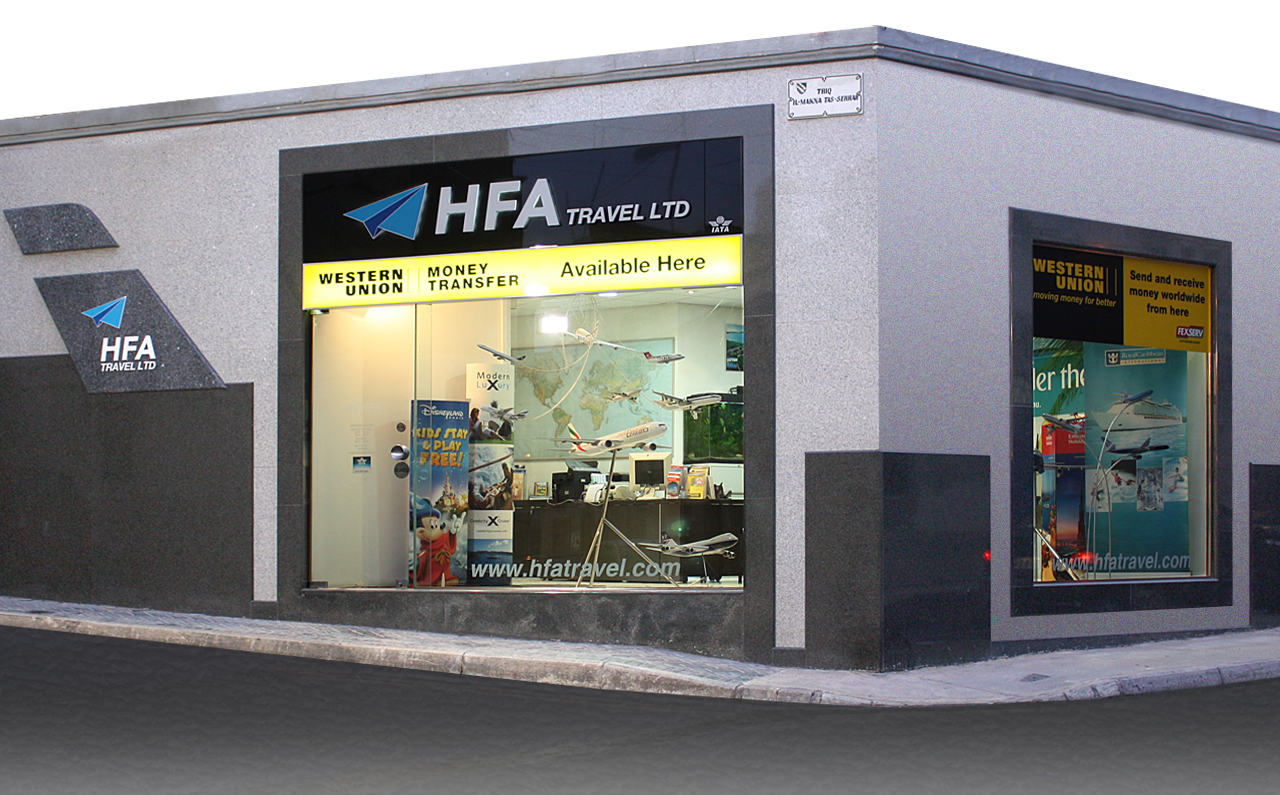 At HFA Travel, we pride ourselves in offering an efficient and innovative service with flair, coupling the highest professional standards with excellent value for money. From inception through to the realisation, we are specialists in the design, development and implementation of our clients' travel requirements.
We are a small, dynamic team, who dedicate our considerable experience and energy to create exclusive itineraries for any business or pleasure trip worldwide.
HFA Travel is one of the leading travel agencies on the island, specialising in corporate and leisure travel. We have built a reputation for sound credibility among our clients over the past 30 years of operation. Through our appointment as sub-agents for Citadel Insurance plc and Western Union, we offer all types of Insurance Cover and Worldwide Money Transfers.
Our office is strategically located in the heart of the island, making us easily accessible to our clients. Technology also plays an integral part of our operation whereby we are able to ensure the best service for our clients, reducing their costs and improving their travel management. Our Global Hotel Reservation System offers our clients access to preferential discounted rates at over 60,000 renowned hotels worldwide. Moreover, our industry contacts overseas facilitate favourable offers that we procure on behalf of our clients.
Another advantage for clients of HFA Travel is our 24hour Emergency Service whereby our clients are assisted any time, any day throughout the year. This proved vital to many clients who encountered snowbound airports, strike action disputes and other similar cases such as the volcanic ash cloud problem that affected the aviation sector. In such cases, our clients are offered immediate assistance and alternative arrangements are effected by our dedicated staff to make sure that our clients are among the first to get out of these unpleasant situations. Experience has shown that above all, it is in such situations that our clients really appreciate appointing us as their travel agents!!
Our mission statement is simple: "HFA Travel is committed to providing world class, personal, consistent and professional travel management services that impress our customers. We are people centric, service focused and technology driven".
At HFA Travel, we seek to develop long-term relationships with our clients. Make us the point of reference for your travel requirements and we assure you that we will strive to surpass your expectations.
Andrew Fenech Azzopardi
Managing Director